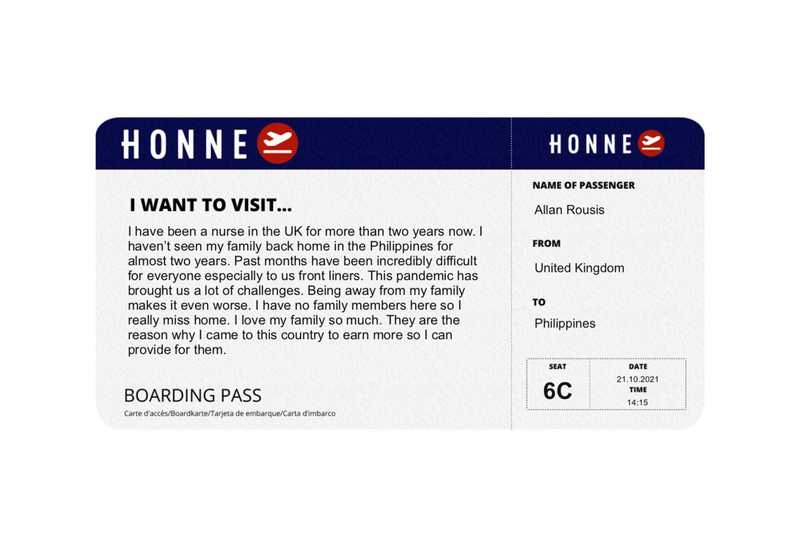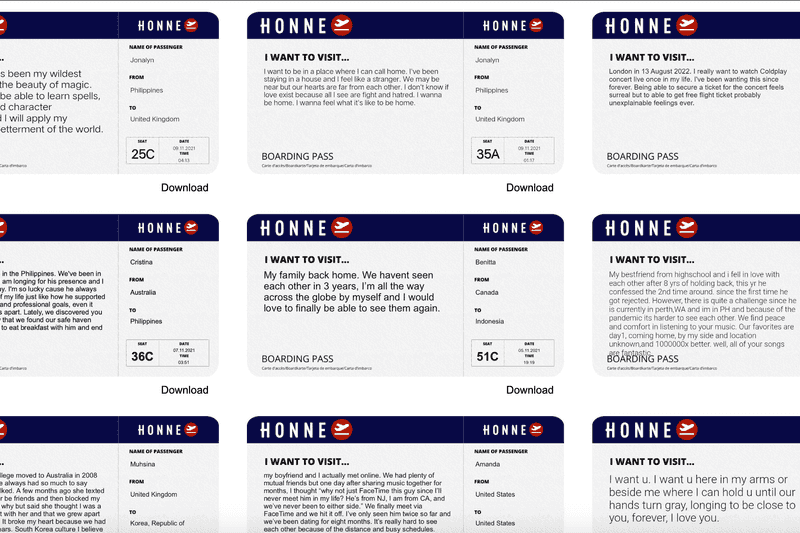 Honne – Coming Home
How to make a multi-million dollar Record Label pay for an NHS workers travel home.
Sectors:

Music

,

PR
Year: 2020
Coming Home is a track by the UK duo Honne – about how coming home to the ones you love is the best part of being away.
Honne's global fan base is huge, and they saw that a lot of their fans were stranded overseas away from their
families during the pandemic due to travel restrictions. It would cost someone (or a certain band's record label…) a fuck ton of money to bypass this, and get back home.
So we created a fake airline website (iamcomingho.me) where people could buy free fake tickets – but use them to tell us why they needed to go home and how we could help. We had thousands and thousands of entries, so it was near impossible to pick a winner..
Honne then read Alan Rousis' story.
Alan was a front line nurse in the UK during the entire COVID pandemic, and hadn't seen his family for years due to wanting to stay and help fight the virus. He came here originally to provide for his family, and sends all of his income home to them so they can have a better life.
Honne also put their hands deep in their pockets and helped pay for him to go home and see his family – no expenses spared. We got him through empty airports, endless testing and pesky border controls. Door to door, paid for.
Alan finally came home, and got to be with his family again.
Link to viewing his journey home: https://www.instagram.com/reel/CaR79p4DkyQ/?igshid=MDJmNzVkMjY=